Welcome to Space Quest 7 Central, the web's top source for information about the now-canceled seventh installment of Sierra's classic Space Quest series. Please note that this page is devoted to the version of SQ7 that was to be headed up by designers Scott Murphy and Leslie Balfour that Sierra canceled in 1998. For more information on the recent rumors of Sierra's possible revival of the Space Quest series, check out the Broomcloset's new
Space Quest 7 News and Rumors
section. Despite Sierra's decision to place this version SQ7 "on hold indefinitely" a few years back, this page remains online to give fans of Roger Wilco's misadventures a little insight into the game that might have been.
February 22, 1999 -- It's official--Guy from Andromeda Scott Murphy (co-designer of SQ1-4 and SQ6) is no longer under contract with Sierra. What does this indicate for the future of the Space Quest series and the campaign to save SQ7? Scott recently spoke with the Broomcloset on this very topic. Here's what he had to say:
Does this mark the end of Roger Wilco (at least at Sierra)?
Scott Murphy: As for the end of Roger Wilco and Space Quest, I can't give a definitive answer since the game is Sierra property. With that being said, however, their actions seem to indicate that it is over and Roger Wilco is dead, at least as far as they're concerned. But then, Sierra could conceivably get a wild hair up their butts sometime in the future and do something with it. (You know how they love those ever-so-humorous theme pinball games, so who can say what might show up with the Space Quest name on it?) I can only speculate that there is no plan to do anything Space Quest related at this time.
Did Sierra ever have any serious intentions to consider taking SQ7 off hold or was it all a matter of spin-doctoring what they knew would be an unpopular decision?
Scott: Between a lack of contact from Sierra and the fact that they let my contract lapse, I am gathering that they just wanted it to go away. My old contract contents lend credence to the spin-doctoring theory. The only thing that I could say about Space Quest was that it was on hold, and I wasn't allowed to say anything that would cast an unfavorable light on Sierra, so instead of lying or being misleading, I decided to not say anything at all while the contract remained in effect. I was hoping that something would happen, but that turned out to be nothing but naive, wishful thinking.
What really put the spin doctoring into action was when fans started flooding Sierra management's e-mail boxes with their feelings about the cancellation of the game. Sierra kind of went into a panic. They realized that they had a public relations nightmare on their hands and did some real fast back-pedaling. That's what caused Craig to later generate the press release stating that the game was just "being put on hold." On Christmas Eve of 1997, I was told by the project manager, Lori Lucia, that Space Quest 7 was "cancelled." That was the word used. And wasn't that a nice Christmas present?
Lastly, is there any chance that you would be willing to disclose the plot-that-would-have-been-SQ7 at any point in the future?
Scott: Maybe someday in the future, but I'm not really inclined to. We were being pressured to make Space Quest 7 a multiplayer game, which, by its nature, it just never should have been. Therefore, the design had to be something that I didn't want it to be and I thought it sucked for the most part, to be quite honest. Please know that I am not saying anything bad about the work Leslie did on it. (However, I will confess that mine could have been better!) I like working with Leslie and would do it again in a heartbeat if we were given the chance to do it under the right conditions. She's incredibly intelligent, creative and witty. She truly managed to get into the proper mindset necessary to make a Space Quest (which in many places in the country and the world would most likely get her institutionalized). Unfortunately, we just plain didn't have the freedom needed to make the game true to Space Quest form because of the requirement by management that it be 3-D multiplayer action adventure. They couldn't see that they were forcing it to be something it couldn't be. Quest for Glory was also supposed to be multiplayer also, but they canned that idea, probably so that it wouldn't ship another year late because they were unable to implement it.
Scott also expressed his gratitude to the fans for their devotion to the Space Quest series. Be sure to drop by Scott's recently-launched website for more inside info on the Space Quest series. In summary, Space Quest designer Scott Murphy is no longer under contract with Sierra and it appears that the fight to save SQ7 has taken a decided turn for the worse.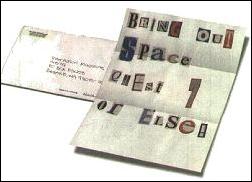 December 23, 1998 -- Just in time for the holidays, I have cobbled together the a little information on Space Quest 7. I recently e-mailed Craig Alexander to ask if there had been any changes in the status of SQ7 in recent weeks. His response: "I have nothing new to report. The project is still on hold." Oh, well...looks like we'll have to keep waiting for any additional updates.
In other news, I received a report from Brian Kazian regarding the recent appearance of Roberta Williams and Mark Seibert on Talkspot to hype Mask of Eternity. Brian reports that he called in to ask about Mark about the future of Space Quest 7. Mark said that the various letters and petitions were having an effect and that people should keep 'em coming. Roberta then added that she was a big fan of the series and the Two Guys and would love to see a seventh episode made, predicting that it would be a big hit. Thanks for the info, Brian!
December 13, 1998 -- Special thanks go out to Chris Geroux, who mailed me the ransom note from Mr. and Mrs. Vincent Kassab of Williamsville, NY. Awesome work, guys--and thanks for the scan, Chris!
I'm currently working on getting some inside info on the status of Space Quest 7. With the recent purchase of Cendant Software (Sierra's parent company), we might see some changes in the near future. Stay tuned and I'll see what I can cobble together.
October 20, 1998 -- This news is a little old, but I thought I'd run it anyway. The most recent issue of InterAction (Sierra's in-house magazine) features some new information about SQ7. Underneath an awesome "Bring Back Space Quest 7" ransom note, Craig Alexander had the following to say:
"Periodically, Senior Management meets to discuss upcoming development projects. I can guarantee that Space Quest 7 will be one of the titles on our agenda, given the deluge of email that we have been receiving over the last six months.

Thanks for your continued interest. Your opinions do matter and have a significant impact on our development decisions. Unfortunately, there are many other business issues that must be addressed before Space Quest 7 can become a reality."

It looks like Sierra is still keeping their options open, folks! Let's keep the campaign to
save Space Quest 7
rolling! By the way, if anyone has a good scan of the ransom note from InterAction, please
e-mail it to me
.
August 7, 1998 -- For those of you that haven't heard, it's official; Leslie Balfour, co-designer on SQ7 and official Gal from Andromeda, is no longer with Sierra. Space Quest fans will certainly miss you, Leslie! Best of luck with your future endeavors!
In a related story, Craig Alexander confirms that Scott Murphy remains under contract if and when the project is revived.
July 26, 1998 -- Since Neil Schuh's Wilco Burger has been shut down for the time being, I've provided his RealVideo version of the SQ7 promo movie for download here at the Broomcloset. Download it now! By the way, you'll need to download RealPlayer if you don't already have it! Thanks, Neil!
June 22, 1998 -- Big news! This past Monday, Sierra held a management meeting in Las Vegas to discuss, among other things, its plans for the future. While Space Quest 7 was not a major topic of discussion, Craig Alexander (SQ7 GM) had this to report via e-mail:
It went okay, although we only spent a few minutes discussing [SQ7]. In early July, I plan to have another meeting and formerly pitch restarting the project in early 1999. The tides are definitely turning, in part because of [the fans'] support. However, there is a long road ahead of us.

So, things are definitely looking up! While this doesn't mean Space Quest 7 is definitely back on track, it's certainly a more positive indication than we were getting a few short months ago. Still, keep those
letters
rolling in to Sierra! Let's make sure this game becomes a reality!
February 15, 1998 -- It has recently been leaked from inside sources at Sierra that Scott Murphy--Guy from Andromeda, co-designer on Space Quests 1-4 and 6, and would-be designer of Space Quest 7--has been laid off from his position with Sierra.  Now, this might not be quite as bad as it sounds.  Supposedly, Scott will be re-hired if the SQ7 project is ever restarted.  All the same, it doesn't seem like the best of signs.  What can we do?  Keep writing Sierra and let them know what you think of the whole deal!
December 31, 1997 -- Many of the SQ webmasters received this e-mail from the Space Quest 7 design team yesterday:
To the Friends and Fans of Space Quest:

As you all know, the path to Space Quest 7 has been long and bumpy, and we were never sure what we would find at the end of the road. The decision has been made, after much soul-searching and agonizing, to put Space Quest 7 on hold indefinitely.

The joy for the team has been in the journey. We've made many friends out there, and it has been quite heartening to know that Roger Wilco has so many fans. I look forward to continuing the friendships I've developed over the last year. But Sierra is in the process of many changes, and we had to take a hard look at whether a Space Quest 7 project made sense. Unfortunately for those of us who love Roger and his stupid antics, other projects just have more to offer both to the company and to our customers in general at this time.

Please don't worry about the team. We will all move to other projects at Sierra On-Line. Many of us will go over to the Babylon 5 space combat game, which will be coming out in Holiday 1998. Others will go over to the B5 adventure game, which will also come out in 1999. Both of these products will reflect Sierra's commitment to excellence in space games, and I hope you'll consider playing them if you have the opportunity.

I am sending this email to those of you who have sent me mail lately. Please pass the information on to any Space Quest fans I inadvertently omitted.

Finally, don't be sad for Roger. Just think of him as weary from making us laugh for all these years, ready for a break from his adventures. He and la Wankmeister want to settle down, raise a family. And perhaps as we look up in the sky, a distant star will remind us that somewhere, in a distant galaxy, Roger Wilco is probably getting pantsed.

Thanks again for all your support,

The Space Quest Team
-Leslie Balfour
-Scott Murphy

That's all we know for the time being: SQ7 is on hold indefinitely. As more information becomes available, I'll be sure to post it. In the meantime, a campaign to save Space Quest 7 has been launched. Go to the Broomcloset's
Save Space Quest 7 page
for more details.

In General The Space Quest series is a long-running sci-fi comedy adventure series from Sierra On-Line. Space Quest 7 (which has been going under such working titles as "Space Quest 7: This Time It's Personal" and "Space Quest 7: Show Me the Buckazoids!") is the latest installment in the adventures of space janitor Roger Wilco.
Space Quest 7 is being designed by Scott Murphy, co-designer on Space Quests 1-4 and Space Quest 6. The game will feature 3D graphics (though it will not be a first-person shooter and purportedly will not require a 3D accelerator card) and also include multiplayer support--both firsts for the series. For a non-interactive preview of the game from the Space Quest Collection, you can download this promotional video in RealVideo format. For more information about SQ7, check out these interviews with designer Scott Murphy and former designer Leslie Balfour.
In January, 1998, Sierra announced that it was putting Space Quest 7 "on hold indefinitely" (for full details, see the above letter from the design team). In response, a number of Space Quest sites on the Internet have launched a massive campaign to save Space Quest 7. For more details on how you can make SQ7 a reality, check out the Broomcloset's Save Space Quest 7 page.

Design Team While SQ7 was still in its early stages when the project was placed on hold, a number of familiar faces had already been named to its design team. This is the SQ7 design team as it currently stands:
Scott Murphy -- Co-designer/Writer
Jay Lee -- Programming
Bill Shockley -- Programming
Mark Aro -- Graphics
Richard Powell -- Character Design
Lori Lucia -- Project Manager
Craig Alexander -- Project GM

Story The team has gone to great lengths to keep the storyline for Space Quest 7 under wraps. However, we've managed to get a few tibits of information here and there.
According to the SQ7 AVI preview, Roger will be setting out to rescue his girlfriend, Ambassador Beatrice Wankmeister, from the clutches of his arch-nemesis, Sludge Vohaul. Scott Murphy is quick to remind us that Vohaul's mind is still sitting at the bottom of the Super Computer from SQ4, stored on a floppy disk.

Rumor has it that Roger will jettison either Bea or Stellar Santiago in SQ7. According to Scott, "Uh, well, there are definitely some personal issues in this game for Roger to deal with." Beatrice Wankmeister is Roger's supposed future wife, introduced in Space Quest 4 and who played a major part in SQ5. Stellar is a Starcon Corpsman who Roger got to know up close and personal in SQ6. Scott has hinted toward seeking closure in this area of Roger's life, though. In an interview with Popular Janitronics, when asked if Roger would leave Stellar for Bea, he cryptically stated, "Obviously you've never seen Beatrice in the morning." Leslie adds, "I think Roger will continue to toy with Stellar, and continue to be toyed with by Bea."

Scott has insinuated that more about Roger's rather vague past will be revealed. As for what is chronicled in the series, little is known before Roger stumbled out of the broomcloset in Space Quest 1. For previously written background, try this interview, reprinted from Space Piston Magazine. Could there be a mysterious link between Roger and Sludge?

Characters Currently, very few characters have been confirmed for Space Quest 7. Naturally, we can expect Roger to appear. Also, the SQ7 preview seems to confirm that both Beatrice Wankmeister and Sludge Vohaul will appear. Furthermore, both Scott and Leslie have suggested that Stellar Santiago might be making a return appearance also.
The SQ7 preview offers some footage of Roger as he's trying to rescue Beatrice. Here are a couple of screen captures from the promo. The first shows Roger with an Acme-esque rocket attached to his back. The second features our hero in an EVA suit, floating in the void of space.

Below is a sketch by SQ7 character designer, Richard Powell. This creature is known as Dougie, who Leslie describes as a slime monster. Leslie also states that Dougie, "likes to hang around with his friends on street corners in Polysorbate and hassle passers-by. Roger may have to deal with Dougie one day, but for now Dougie and his friends are enjoying their slime monster existence without fear of Roger or anyone else." Does this mean that Roger will be heading back to Polysorbate LX in SQ7? Who knows? Click on the image below for a large version.

The SQ7 preview also suggests that we'll be seeing old friends Fester Blatz and Astro Chicken again in SQ7.

Multiplayer Yes, Space Quest 7 will have a multiplayer mode. This raises the question of how multiplayer features can be successfully worked into the traditional adventure genre. At this point, the details of how the multiplayer game will be handled are still a bit cloudy. However, we can provide the following information:
SQ7 will not be a role-playing game. While Sierra is trying to break away from the traditions and clichés of the adventure game genre with their new products, SQ7 will still be an adventure game.

There's no word on what characters other than Roger Wilco be playable. Here's what Leslie Balfour had to say on the subject: "Definitely Roger, and we're thinking that everyone will play Roger, even in the multiplayer version! And I'm going to let you mull that cryptic statement over for a while before I explain." Could cloning be a part of SQ7's storyline?

Comments, questions, suggestions... jess@wiw.org
Roger Wilco and related materials are © Sierra On-Line.
Space Quest is a registered trademark of the Children's Museum of Indianapolis.
This page is © Decaffeinated Jedi, 2002. Design & layout © Frost Byte Interactive, 2002.
Optimised for 800 x 600 resolution and greater.

{Home}